Wild Acres is located in Armstrong, British Columbia, Canada. We enjoy breeding, showing, milking and selling registered Nubian dairy goats.
Our does are due to birth from March through to June.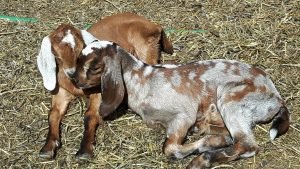 Registered Does starting at $600 (sold out for 2022)
Registered Nubian Bucks starting at $600
Non-Registered Bucks $400
Nubian Wethers $300 
There is a 50% deposit to reserve a goat.
We reserve the right to select animals for our herd's needs.

Our Nubian goats tested negative for CL,  CAE and Johne's since  9/02/16 and G6-S from July, 2019. Our Nubian bucks and does are only used for our own breeding program.
Our herd name is "Willows Wild"  and our Nubian herd is under my name with the
Canadian Livestock Records Corporation
Carolyn Selent Wild (WIL)
Member No.5392701
Registered Prefix WILLOWS WILD
Tattoo Letters WIL
Please click on this blue link to see the pedigrees of our registered Nubian goats
https://www.clrc.ca/search-registry/member-details/5392701
Please read our ordering policies entirely by placing an order with Wild Acres you have acknowledged that you have read and agreed to them. Feel free to contact us if you have any further questions.
  Birth Weights: 5 – 12lbs. dependent on single birth, twins, triplets & doe size/age
Birth weight plus 10 lbs each month
Buck approx. 36 lbs.& Doe 34 lbs. at 2 months.
Wild Acres Nubian Goat Ordering Policies:
By placing a deposit or purchasing a goat from us, you indicate the acceptance of this policy.
To Reserve a Kid:
Reservations are based on the order in which deposits are received.

C

ontact us via email or phone call to confirm the availability of your desired reservation. 

A 50% deposit per kid is required to hold the kid(s) ordered and it is non-refundable unless we cannot supply the order.

If we cannot supply the goat order, then your deposit can be transferred to another goat that is available, to the following year or returned to you.


A reservation will not be held without a deposit.

 
We prefer Interac e

mail money transfers or cash.  No Personal cheques. 

As the breeder/owner of the animals, we reserve the right to retain an animal for herd replacement.

We also reserve the right as a breeder to refuse a sale of a kid or doe to anyone, at any time at any point in the transaction, at which point your deposit will be refunded.

Doelings are entered into Interior Provincial Exhibition in Armstrong, BC as senior or junior doelings. The doelings that are pre-sold will be available for pick up after the show is completed at the end of August/early September.
We do not sell unregistered does or doelings. 
Registered bucks, non-registered and wethers are available at 2 months of age and cannot be breed back to our does as they are all related too closely. 
Full payment is due before the animal leaves the property. If you wish to pay your remaining balance at the time of pick-up, please bring cash or send an e-transfer a few days ahead. 

We are not responsible for the transportation of the goat, so please bring your own crate with clean, dry bedding when you come to up pick up.

Immediately upon possession of the animal, the buyer takes full responsibility for well-being and husbandry of the purchased animal.
Laboratory tests are the financial responsibility of the buyer as are the transporting kennels needed for animals.
We do our best with disbudding kids, but we cannot guarantee that they will not develop scurs.
We do not guarantee show quality.
We do not offer breeding or stud services due to biosecurity measures.


Seller Agrees to:

Have kid(s) disbudded, tattooed, wormed and vaccinated before they leave the farm.

Transfer the ownership registration by the requirements of CGS to the buyer's name.

Seller agrees to accept the responsibilities for the transfer fees.





Seller's Disclaimer: 

The prospective new goat owner should be prepared for all goat care including health and management. Please read the following information before considering adding a goat to your farm: https://www2.gov.bc.ca/assets/gov/farming-natural-resources-and-industry/agriculture-and-seafood/agriservicebc/webinars/sheep_and_goat_manual.pdf
Animals are sold on a "where is, as is" basis and guarantees the buyer that the said animal(s) are in good health, are free of injury or disease at the date of sale.
And the animal(s) sold is expected that he/she will breed if provided with the proper care, environment, and nutrition.
Housing, feed and transportation should be researched and planned ahead. See our link page for more information https://wildacres.ca/links/
Please plan for high quality feed and goat supplies, prior to picking up your goat (s).
We provide our does with 2nd cut alfalfa hay mix, which has a fine texture. Alfalfa mix hay is higher in protein and ensures proper growth and milk supply. Our bucks are also fed alfalfa hay mix, but they are fed less grain treats. They receive grain treats mostly in the colder winter months. Too much grain for bucks can cause kidney stones.
We also provide BOSS sunflower seeds, goat text, powdered kelp and free choice loose goat minerals which provides needed selenium and copper as well as free choice baking soda for any stomach ailments or bloating. Goats cannot eat stone fruit such as cherries or peaches. 
We use 4-foot metal mesh sheep panels and 2 x 4 fencing wire with posts for our does and kids. Goats are curious and can get their heads stuck in 4X4 wire. Our bucks have a 6-foot fence. 
Nubian goats are herd animals and should always have goat companionship. 
In the case of failure to breed the situation must be fully substantiated by a physical examination and applicable medical tests performed by a licensed veterinarian.
We are not financially responsible for the medical expenses of a fully purchased animal after it leaves our care.

Any contesting as to the health or physical condition of the animal(s) at the date of sale/upon arrival needs to be fully substantiated by a physical examination and applicable medical tests performed by a licensed veterinarian, and provided in writing to the Seller within 48 hours of sale.

We will not be responsible for veterinarian costs incurred by buyer in obtaining such examination and tests.

For bio-security reasons, we cannot have goats return to our farm once they have left the property.