Wild Acres is located in Armstrong, BC, Canada. Our small family-owned breeder farm sells hatching eggs at our farm gate and ships hatching eggs to BC, YT, AB, SK and MB via Xpresspost.
We no longer ship hatching eggs to ON, QC or the eastern provinces due to shipping delays, cost factors and other circumstances.
Our poultry free range for most of the year in mixed group settings except in spring when we put them into their breeding pens. Our Indian Runner ducks, African geese and turkeys roam in a mixed group settings in our fields year-round.
Our farm operates on a smaller scale, and we have no intention of becoming a commercial hatchery. Our breeding flocks are smaller in number, and we have a limited number of eggs available per week, but we have lots of breeds to choose from.

We are happy to accept your hatching egg orders but please understand and accept the many challenges of hatching eggs and remember that you are not paying for chicks. You are paying for fresh, fertile eggs and we do not guarantee that your purchased hatching eggs will hatch or what the hatch rate will be due to the many variables involved. We assume that the buyer is aware of all the risks with the shipping of eggs or picking up hatching eggs, and they feel comfortable to take that risk.
Please Note:
We have been taking pre-orders since Nov. 1st via our online store and we are sold out for 2023.
We are a small farm with small breeder flocks and a limit of about 6-12 eggs a week available per breed/per customer.
There are almost 100 customer orders that are in our order queue now and we will honor them in the order they were received.
Therefore, If you are placing an order in January 2023 or later then your order will not be filled until June.
We will contact our customers a week or two prior to their pick up or hatching egg shipping dates.
The shipping quote given by our online store will have to be recalculated prior to shipment as Canada Post sets their new rates in January. 
Some breeds will not be available as we work towards replenishing those flocks.
We do not keep customer lists from year to year nor take pre-orders via the phone.
We appreciate your patience and understanding.
Don't count your chickens before they hatch as fertile eggs are never a guarantee as to how many chicks will hatch for you. Losses occur with developing eggs and freshly hatched chicks, regardless of your skills with an incubator or the hen that was supposed to do her job.
Only the strongest should survive as Mother Nature intended. Chicks can die for no apparent reason, especially within the first few weeks after they hatch because they cannot regulate their own temperature until they are older. Be vigilant in your care of them and remember that chicks that are weak or chicks that are rescued from unhatched eggs do not promote a healthy or sustainable flock.

Wild Acres Terms and Conditions on Hatching Eggs:
We believe in old-fashioned breeding techniques that promote a healthy flock and

we do not vaccinate our chicks nor our adult birds.
Different incubators, turners, shipping variables, fluctuating temperatures and humidity, egg handling and storage make each hatch unique. These various influencing factors are simply beyond our control; hence we cannot guarantee what your hatch rate will be even if you picked up the eggs yourself.

We do not refund hatching eggs, replace nor credit hatching eggs and we do not refund deposits unless we can't supply the order. This includes eggs picked up at our farm gate. 

We will refund deposits on eggs via an e-transfer when we cannot supply the order (ie. a specific breed has stopped laying).

There is a $20 deposit due per hatching egg customer order to ensure your commitment and hold your place in queue.
You will be contacted via email after your order is placed regarding the e-transfer deposit. 
Eggs are collected from Monday-Sunday, inspected for cracks, strong shells, shape, size, cleanliness and colour before being labelled with pencil and packed with care.  Our hatching eggs always leave our farm in good order.
Chicks and waterfowl generally hatch out approximately, 50% female and 50% male but there are no guarantees when it comes to hatching. 
It is a good idea to order two to four times the number of hatching eggs as the number of hens you plan to have in your flock.
If you purchase a dozen eggs and only half hatch you are still saving yourself money as compared to the price of paying for individual chicks.
We hatch eggs continuously from March until the end of June and check for fertility prior to shipments to ensure quality chicks and hatching eggs.

We cannot guarantee shipment dates or pick up dates, but we can stay in touch via email and give you an approximate time frame.

We believe in being fair and schedule our customers in a dated queue according to the day they ordered and availability.

If we have to make changes to your order, we will contact you via email.

 

Wild Acres shows poultry and breeds towards the Standard of Perfection, but we cannot guarantee show quality.

SHIPPING HATCHING EGGS

We ship hatching eggs to Canadian residences in BC, YT, AB, SK and MB. 

We will no longer be shipping hatching eggs to Ontario, Quebec or the eastern provinces due to shipping delays, cost factors and other circumstances.

The minimum order for shipping is 12 hatching eggs.

We only sell and ship hatching eggs in April, May and June. 

We will not ship less than a dozen eggs, but you can have more than one breed in that dozen.

Please remember that 100% hatch rate is not guaranteed even in the most ideal circumstances. This includes eggs that are picked up.

We only ship via Xpresspost.

There is no insurance on eggs via Canada Post. 

When your eggs have been sent to you by Canada Post (Xpresspost), the hatch rate will potentially drop to around 50% or even less.

There is a packaging fee of $6.00 and shipping costs via Xpresspost added to your egg order.

We ship hatching eggs on Monday or Tuesday to ensure delivery before the weekend.

Canada Post has implemented new policies and they cannot promise it will get there within their 2-3-day policy. 

All shipped hatching eggs are labeled as fragile only.

When the hatching eggs are dropped off at the post office, you will receive a tracking number after 5pm that day. Your phone number also needs to be on your package.

It may take a few hours for Canada Post tracking information to be updated online.

Wild Acres is not responsible for delays nor losses by Canada Post for shipping.

It is the customer's responsibility to track their own package. However, if there are ANY issues with the tracking, please contact us or call Canada Post at 1-800-267-1177.

PICKING UP HATCHING EGGS


Our hatching eggs are available for pick-up on Sunday afternoons or shipping in April, May and June depending on availability by appointment.

Due to biosecurity reasons, we will meet you at our farm gate.

We do not sell pullets, laying hens nor other adult birds and we do not take back any birds once they are hatched or purchased and leave our property.

We do not lend out our incubators due to biosecurity protocols.

INCUBATING FERTILE EGGS AND THE BLASTODERM
A small fertile blastoderm in the egg may look infertile after a short time in the incubator. The blastoderm may die early in the incubation process or eggs may have been damaged during transit. Therefore, cracking the eggs during or after the incubation process in order to determine fertility is not going to be give you a precise ratio of fertile to infertile eggs.
We prefer to use Brinsea and Sportsman Cabinet incubators at Wild Acres as they have proved to be the most reliable for us but even on our farm hatch rates can vary throughout the season.

POULTRY BREEDING PENS, DIFFERENT HERITAGE BREEDS AND THE WEATHER
The age of the chicken is a determining factor. We tend to have both older and younger birds in each breeding flock. 
Our breeding pens usually contain multiple roosters in each pen to increase fertility and the gene pool. 
Each year is different with regards to the weather, which directly affects our birds. Fertility and egg production will fluctuate due to weather variables (ie. heat, smoke, drought, cold and rain) and this is out of our control.
Some chicken breeds prefer warmer weather before commencing to fertilize and lay eggs.

"

Temperature

 may also play a direct role at the time of egg formation: there are costs associated both with the development of the reproductive organs (

Williams & Ames 2004

) and with producing eggs (

Stevenson & Bryant 2000

; 

Visser & Lessells 2001

; 

Vezina & Williams 2002

). At low temperature, these costs are higher (

Stevenson & Bryant 2000

) and thus may constrain laying date." 

Temperature has a causal effect on avian timing of reproduction – PMC (nih.gov)

After you receive the hatching eggs or live birds they are in your hands, and we can only offer our advice.

 

Emails are preferred, and we can answer questions more readily this way as well.

Thank you for your patience, understanding and for supporting our farm. 
To read more about Canada Post's new protocols and potential delays visit www.canadapost.ca 
Canada Post sets their new 2023 Xpresspost rates for shipping around January 11th. We only ship eggs through Xpresspost. Please see our shipping examples page for estimates from previous years.  https://wildacres.ca/shipping-charge-examples/
We will also keep you up to date on our Facebook page.  https://www.facebook.com/wildacres.ca
All livestock is subject to availability.
We take orders as they come in via our online store starting on November 1st each year and schedule them on our calendar according to availability of eggs at that time. However, egg production fluctuates with each breed and therefore we can only give you an approximate time frame for shipping. 
In order to calculate shipping of eggs we require:
your address, box number, postal code, phone number, email and the type of eggs and amount ordered

Your postal code determines shipping costs along with box size and weight
https://www.canadapost.ca/web/en/pages/parcelscon/default.page
Our postal code is V0E 1B5
You can use the Canada Post website above and our box/weight table and then you can calculate your own Xpresspost shipping charge and add $6 for packaging.
These weights are for chicken eggs and duck eggs. 
| | | |
| --- | --- | --- |
| Amount | Box Size Cm L X W X H | Weight KG                        Duck Eggs |
| 1 dozen | 37 x 22 x 19 | 1.3                                        1.5 |
| 2 dozen | 35 x 32 x 19 | 2.3                                           3 |
| 3 dozen | 38 x 31 x 27 | 3.3                                           4 |
| 4 dozen | 38 x 31 x 27 | 4.3 |
Please also check out our shipping examples page.
Payments for Shipped Orders are made by:
Interac Email Transfers to info@wildacres.ca

Payments for Pick-Up Orders can be made by:
Interac Email Transfers prior to pick up to info@wildacres.ca
(Interac is prefered during Covid-19)
We do not accept Visa, Personal Cheques, Money Orders or PayPal
A box measuring approx. 32 cm X 32 cm X 18 holds 2 dozen eggs. This size of box with 2 dozen eggs weighs approx. 2.2 kg. (A dozen eggs is approx. 1 kg.)
At Wild Acres are constantly working at improving our breeding stock and hatching eggs:
-We only use healthy young stock for our breeding pens that meet APA specifications as much as possible.
– We generally use more than one rooster in our breeding pens to improve genetic diversity and increase the odds of fertility in our hatching eggs.
– We always purchase high quality feeds, greens, vitamins and herbs for increased egg production and to ensure strong shells and chicks and all our birds' free range during the off season.
– We run our incubators from spring through the early summer months, so we are constantly checking the quality and fertility of our eggs. We stay in touch with our customers concerning fertility percentages via email or messenger.

Collecting, Storing, Packaging and Shipping Eggs:
-We collect the eggs several times throughout the day from clean nest boxes lined with straw and or shavings.
-We collect eggs over the course of one week only, turn them daily and keep them in a cool dark room with humidity ranging between 55-65% and 10-15 degrees C.
-All of our eggs will be sorted, inspected, dated and labelled with a pencil as to what type they are.
-We only ship eggs that are hatching well on our farm.
-We will contact you if fertility drops and then a different breed or change in your order may be suggested.
-Deposits are only returned if we cannot make your specific order due to a lack of specific eggs or chicks.
-We use new eggs cartons, new boxes, new bubble wrap and packing paper when we pack our hatching eggs, and we suggest heat packs when needed.
-We clearly label each box with bold lettering for Canada Post employees, so it is easy to recognize the box.
-We are in touch with our customers during the week of collection and during the mailing process via email or messenger.
-We send you the tracking number after 5 pm on shipment days.
-We are available if issues arise with Canada Post.

"No animal that exhibits a lack of vigor or good health or which proves low in fertility should be used as breeding stock."
http://www.albc-usa.org/documents/ALBCchicken_assessment-3.pdf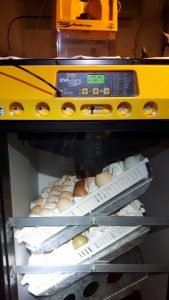 When Hatching Eggs Arrive and Preparing for Incubation:
Disclaimer: When we provide you with tips or advice for incubation that does not guarantee what your hatch rate will be. Our skills, incubators and our climate are unique to Wild Acres. 

Please let your hatching eggs sit in a cool room with the fat end up for 24 hours before incubation at 7.2 – 15.5 degrees C or 45 – 60F. Target humidity for fertile egg storage is 75%.
If your eggs have already been in transit for a longer period than expected, you can put them in the incubator fat side up but do not turn on the turner for 24 hours.  
If you are purchasing shipped eggs, please check your eggs for cracks that may have happened during transit etc. carefully before you set them in an incubator. 
We incubate at 37.4C – 37.5C with a humidity of approximately 47-49%. during the cooler spring months such as March/April. On hatch day we raise the humidity to 55-59% for our chicks. The incubator humidity will also naturally rise to as much as 62% on hatch day due to the moisture coming off the hatching eggs.
During hot dry summer months of August, we raise the humidity to 49-56% in the incubator to compensate for the dryness in the environment. Central air conditioning also adds to the dryness factor in homes. Hatch day humidity should be higher as well such as 55-62% but you may have to drop the temperature to about 37.2 to allow the chicks cooler air to breathe. Check your air sac size to see if you need to increase the humidity or decrease it (See the egg picture on the bottom of this page).
For duck eggs we may raise the humidity closer to 60-62% for hatching and we may drop the temperature down 1/2 a degree or so on hatch day depending on the heat in the room, egg capacity and how they are hatching and or breathing in the incubator.
Happy Hatching!
Incubating eggs suffer much more from higher temperatures than they do from lower temperatures.  Within a range of 1-degree Celsius difference can damage the embryos and make it harder for them to hatch.  
Clean and sanitize the incubator prior to your hatching eggs arrival.
Maintaining incubator room temperature between 21 and 24C with good ventilation and relatively high humidity will increase your hatch rate.
Turn on your incubator to warm it up a day or two ahead of setting your eggs. Adjust the temperature and humidity as needed a couple days before setting the eggs. Watch for fluctuations.
Wash your hands and unpack the eggs.
Mark the eggs will an O on one side and an X on the other side with a pencil if you plan to turn by hand.
Mark your calendar and count down 21 days to incubation for chicks. I also note the 18th day on the calendar where I turn off the turner and lay the eggs on their side. Chicks can take as long as 25 days to hatch if the incubation temperature dropped for a period of time.
Our duck's eggs take 28 days or more to start hatching but they are slow hatchers, and they need extra time to hatch due to their thicker shells.
Turn the eggs 3-4 times daily in a small incubator if you do not have a turner especially in the first week.
Check your eggs with a candler or good small flashlight at

7-10

days or later for development. Larger eggs and darker eggs may need a longer period to note development in. 
Take out any eggs that are not developing correctly, are cracked or have become damaged.
At the 18th day stop turning your eggs and raise the humidity slightly depending on the dryness in your home or area during that time of year. Too much humidity can cause hatching problems and or deformities so do not overdo it. I like to keep it on the lower side for chicks and a bit higher for ducklings as they have thicker shells.
Please allow chicks and ducklings sufficient time to dry off before you remove them from the incubator. I usually leave them in there for about 24 – 48 hours and when they are running around. Mother hens stay on the nest until all the eggs hatch before moving off of it. It also allows slow hatchers time to hatch, and chicks need to spend a good part of the first couple of days drying off and recuperating.
Baby chicks don't need anything to eat or drink for about 48 hours after they've hatched. They are sustained by the yolk of the egg, which they absorb into their body just before they break through the shell.

Prepare the brooder area a day or more ahead of your chick arrival or before you remove the chicks from the incubator with an 18-inch brooder guard to ward off drafts and with a proper red 250-watt heat lamp.
We also use a 150, 100-watt red reptile heat lamps from the pet store as a secondary light during the hotter summer months. We alternate or use both the red 250-watt light and red reptile light as needed depending on the weather and needs/ages of the chicks.

Do not be in a rush to take away or shut off the lights, especially for smaller chicks, breeds and bantams. They need to be fully feathered in first and we recommend that they should be at least 8 weeks old. Bantams and smaller breeds may need the light for a longer period of time depending on the weather, their development, size, and feed. Bantams and smaller or slow growing breeds should get higher protein and or chick starter, which is higher in protein for a longer period. 
If you have a warm room available in your home (it will get dusty from the chicks) or in a heated building, you can use a broody hen heat replacement lamp instead of a 250-watt heat lamp for your chicks. It is a little plastic table with a heating pad underneath for the chicks to snuggle under. The temperature stays the same underneath, and you can adjust the legs as the chicks grow but it can only work for a limited number of chicks, and they will still need a light to see their food and water.
If you are raising a mixed flock and have different breeds of chicks in the same brooder you will note that some chicks are already larger upon arrival and they may grow faster than the smaller breeds or pullets (females). Observe your chicks daily for development and know that you may have to provide a separate brooder area for the smaller or slower developing chicks so that they also have access to feed, water and heat without becoming trampled and worn out.


This is our favourite starter waterer to use for freshly hatched chicks. It can be used with a small base or a larger one. We prefer the smaller quail base as the chicks cannot get as much dirt/shavings into the base of it, the brooder area stays drier and so do the chicks. Do not put it directly under the heat lamp as it will warp. This will work for up to 12 chicks. You will need a second one or a larger one for more chicks. We find two smaller waterers work the best in our brooder area.
Dip the chick's beaks in the water a few times to show them where it is when you first introduce them to the brooder area.  We add a 1/4 of a teaspoon of a

Electrovite

, which is a vitamin electrolyte mix and 1 teaspoon of

apple cider vinegar

to the gallon sized waterer. We purchase Electrovite at our local feed store and apple cider vinegar at the grocery store.

We prefer apple cider vinegar with the Mother in it (Braggs) as the chicks feather out quicker and are a lot healthier when compared to chicks given the regular filtered apple cider vinegar. Braggs is great for their immune systems, guards against bad bacteria and maintains digestive health in the intestines by lowering the pH levels and is an overall health booster. Be sure and use a plastic waterer: the ACV will rust the metal and galvanized waterers.

Vitamin deficiencies can look like very much like Mereks: https://thepoultrysite.com/publications/diseases-of-poultry/217/vitamin-b2-deficiencyhttps://www.merckvetmanual.com/poultry/nutrition-and-management-poultry/vitamin-deficiencies-in-poultryhttps://www.backyardchickens.com/articles/the-great-big-giant-mareks-disease-faq.66077/
We like to use this style of chick feeder for freshly hatched chicks. This can be used for up to about 12 chicks. Use a second feeder or a larger one for more chicks. Do not put the feeder directly under the light as the metal will heat up.
When your chicks first hatch you can sprinkle the chick starter around on a paper towel, shop towel or puppy pad on the floor of the brooder and leave the feeder in the middle of it. Change the paper towel daily and remove the paper towels after a day or two and add shavings slowly. This is just to ensure that the chicks or ducklings find the food they need and don't eat shavings by accident or go hunger from lack of food.
We use

diatomaceous earth (DE).

it can be bought at your feed store. It is a fine white powder that can be sprinkled on the floor of the brooder before adding the shavings on top. The diatomaceous earth keeps the brooder and chicks dry, it acts as a beginner grit for them too. They will eat some of it but do not be alarmed. It assists with their digestion and the will aid in keeping the smell of ammonia down in their poop/brooder. We also use it in our hens' nesting boxes under the straw to assist in keeping pests at bay and under the shavings in our coop.
It is very important to keep your brooder area dry and clean. Drafts, high humidity and or heat and ammonia are harmful and cause sickness and death. We clean out our waterers and feeders 2-3 times a day for developing chicks and we adjust the height of the feeders and waters, lights and air flow as needed throughout the day. A mother hen is a consist source of heat, guidance and protection and she would not leave her offspring alone for very long. Otherwise, they may perish. You are taking on the role of the mother hen when you decide to build a brooder and some raise chicks.
Spring hatch day. Note the temperature and humidity. The temperature outside and in the room was on the cool side.

Please see our extensive Care Tips and Link Page for more information on hatching eggs, poultry, waterfowl and goat care.

Every Hatch and Incubator is Unique
Some of the possible causes of unsuccessful hatches are:
-Damage from mishandled packages in shipping or during travel
-Exposure of the eggs to extreme temperature/pressure/x-ray
-Weather/humidity can affect fertility and development of the eggs in the hen during the lay time. It can also affect travel and incubation (ie. dry or humid weather/hot, or cold temperatures)
-Inexperience with incubation/failure to prepare/improper technique
-Type of incubator, faulty incubator, turner or egg capacity 
-Incorrect incubator temperatures at time of setting or during hatch
-Incorrect incubator humidity levels
-Improper storage of eggs and not allowing your eggs to rest before putting them into the incubator for up to 24 hours even with picked up eggs as condensation builds up in the eggs. 
-Improper cleaning of the incubator prior to starting incubation (this may allow bacteria to form and contaminate your eggs)
-Not cleaning hands properly before handling eggs or handling them too much, especially during the first week of incubation.
-Location of the incubator: keep the incubator in a cool area away from sunshine, drafts and heavy traffic. (We suggest a cool room such as in the basement). 
https://the-chicken-chick.com/facts-and-myths-about-fertile-eggs/
https://the-chicken-chick.com/chicken-embryo-development-views-from/