Geoff and Carolyn Wild
4686 North Grandview Flats Road
Armstrong, BC
V0E 1B5
(250) 546-6561 home
(250) 309-4142 cell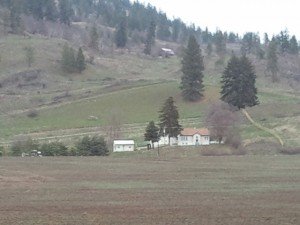 Our family farm is located in the beautiful Northern Okanagan. We are 20 minutes west of Armstrong, BC. and just 3 kms east of Highway #97.
Look for our Wild Acres farm sign on the north side of North Grandview Flats Road, a red bench and a wine barrow flower pot at the gate entrance. The farm gate is locked with biosecurity signs on it. You can see our green house and gardens from the farm gate. There is a giant willow, fruit trees in the field and poultry/waterfowl free ranging. We also have two large white Komondor dogs that look like sheep. Our farm buildings and house are cream and white in colour. 
The cell phone number is 250-309-4142 and we can see the farm gate from our house.  
Note:  Your GPS machine may show our farm in Spallumcheen or Armstrong. It may also say North Grandview or just Grandview.  
Pick-up appointments are usually pre-arranged for Sunday afternoons. Due to our biosecurity program please do not drive or walk into our farmyard. We will meet you at the gate when you pick up your chicks, waterfowl or hatching eggs. You can call us when you get here (see above for our phone numbers) or ring the bell. 
For eating egg orders, it usually better to call in advance to ensure availability as we sell out quickly. 
We can be reached more readily through email. Thank you.
https://www.facebook.com/wildacres.ca/
Here is a Map to our farm: