Welcome to Wild Acres CLRC Registered Nubian Goat Herd!

At Wild Acres in Armstrong, BC we breed, show and sell quality CLRC registered Nubian dairy goats. Our colourful and show winning Nubians are healthy and come from many generations of champion milk lines. Our herd is tested for health, bred for correct confirmation, dairy character and supports strong mammary systems.
https://www.clrc.ca/search-registry/member-details/5392701

Wild Acres Nubian goat herd has tested negative for CL, CAE and Johne's since September 2, 2016, and G6-S since July 2019. Our Nubian bucks and does are only used for our own breeding program.  All of our Nubian goats are registered, tattooed, disbudded, vaccinated and dewormed regularly.
Willows Wild Fantasia was sold in 2022 and tested negative for Johne's, CAE and CL. through the Armstrong Veterinarian Clinic.  
US Davis Veterinary Medicine in California
Genetic Test Results for October 31st, 2022,
Willows Wild Rex [CAN]N164319 sold to Amber Robinson in 2022
-Tested Negative on G6S (not a carrier either).
-Has one protective gene against Scrapie.
-Has A/B alpha casein genes for high casein production to enable more cheese to be produced from milk made. VglReport20221101084510Rex2022
Our small herd of registered Nubians has a limited selection of available goats for sale each year. Therefore, we recommend that you order early. After we receive your emailed goat request, we will complete an order form for you with your contact information and the dam/sire registration numbers. The reservation order form will be sent to you via email.
However, a reservation will not be made without a 50% deposit and a reservation is accepted in the order in which payment is received. We complete the new owner registrations with the Canadian Livestock Records Corporation after sales are complete and your goat is picked up. The registration is mailed out from the CLRC to the new owner.
Our herd's name is "Willows Wild", and our Nubian herd is under my name with the
Canadian Livestock Records Corporation
Carolyn Selent Wild (WIL) Member No. 5392701
Registered Prefix WILLOWS WILD
Tattoo Letters WIL
Please click on the blue link below to view the pedigrees of our registered Nubian goats
https://www.clrc.ca/search-registry/member-details/5392701
Please ask us about our waiting list for Nubian goat kids and see our goat sales page policies for more details. You can email us at info@wildacres.ca (see out contact page).
There is a 50% deposit per goat, and it is not refundable unless we cannot supply the order.
If we cannot supply the order your deposit can be carried over to the following year, transferred to another available goat or refunded.
Our does are due to birth between March – June.
Most of our Nubian goat doelings are entered into Interior Provincial Exhibition in Armstrong, BC and available for pick up after the show is completed in early September.
We do not sell unregistered does or doelings. 
Registered bucks, non-registered and wethers are available at 2 months of age. 
Deposits are not refundable on cancelled orders.

Please see these webpages: Goats For Sale , Goat Policy and Orders and Links | Wild Acres for more information on Goat Care and Ownership. 
Thank you to everyone that has added a Wild Acres registered Nubian goat to their farm.
There are more pictures of our Nubian goats on the farm and at the shows on our Facebook webpage  https://www.facebook.com/wildacres.ca
Here is the webpage from the CLRC /Canadian Goat Society for registration information, tattoos, tests and contacts for goat owners:
https://www.clrc.ca/associations/goats
Parade of Champions – Interior Provincial Exhibition 2018 for Grand Champions and Reserve Champion Goats

2 Year Old Milkers – Grand Champion and Reserve Champion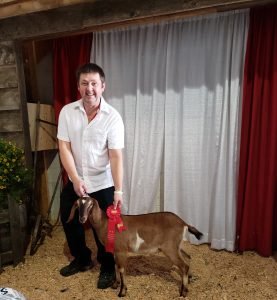 Senior Kids-1st and 2nd Place IPE 2018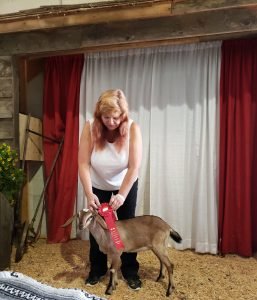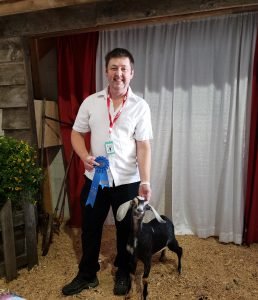 Junior Kids-1st and 2nd Place IPE 2018
2017 West National Goat Show and the Interior Provincial Exhibition (IPE):
1st, 2nd and 3rd place Dry Yearlings as well as Junior Champion
2017 Salmon Arm Fair: 1st Place Dry Yearling and Reserve Champion
and winners of Get of Sire and Prodigy of Dam
"Our Nubian Goat Farm Story"
In April 2013, we put a deposit on our first pair of registered Nubian dairy goats that we purchased from Cherry Bolduc who has been in business since 1990 at her farm Mostly Minis, in Armstrong, BC. Cherry shared her wealth of knowledge in the goat world and presented an impressive tack room filled with show ribbons.
Cherry's Nubian goats came from many generations of registered champion show lines. I was impressed by her herd's desirable dairy characteristics and strength through the width of body both in front and behind. In selecting kids for purchase or for replacement animals it is very important to select those with high and wide escutcheons. Cherry's Nubian herd was of superior stock, they were well cared for and they had all tested negative for CL.
Our beautiful twin doelings, CHERRY'S SAM MIURA -[CAN]N130966 and CHERRY'S SAM ISLERO -[CAN]N130967 came from Cherry's cherished Grand Champion doe, CHERRY TN VENZA-(CAN) N110220. Venza's two predecessors are also Grand Champion does and their strong genes, body capacity and well attached udders are still present in our growing Nubian herd.
Our whole family fell in love with these intelligent and charming twin does. We were excited about being able to produce large quantities goat milk, cheese and yogurt for our family consumption. Our does seemed to have a never-ending supply of milk and even our relatives, friends, dogs and farm cats reaped the benefits.
I milked our first two does for a year and seven months straight and I could have continued but I weaned them due to their impeding pregnancies. Each goat produced between two quarts to a gallon of milk each a day depending on whether I milked them once or twice a day and the length of time milked. We vary our milking schedule from once a day to twice a day depending on the needs of our Nubian goat kids and our household. We may also allow the kids to take all the milk for themselves depending on our needs as well as theirs.
"Our Nubian Herd Growth Plans"
We retain a herd of about ten does, a buck from the Green Goddess line as well as a couple of bucks from our own breeding program. We strive for improvement in body conformation, udder attachment, milk production and the overall health of our breeding herd. We enjoy showing our Nubians, raising awareness of this breed and watching happy goat kids run around our hills. Our Nubian milk products are always welcome at friends and family meals.
We have a waiting list for our upcoming kids, and we will be happy to answer any questions you may have with regards to our beautiful Nubian goat family.
"Nubian Goat History and Facts"
The term Nubian means a native or habitant of Nubia, which was an ancient region of NE Africa. This area is along the Nile from Egypt to Sudan.
In the nineteenth century, native British goats were crossed with imported goats from trading ports in India and the eastern Mediterranean, leading to the development of the breed. These goats are called Anglo-Nubian in Britain, where the breed originated. The term "Nubian" was first coined in France, where goats had been imported from the eastern Mediterranean.
The Anglo-Nubian, or simply Nubian in the United States has distinguishing characteristics that include large, pendulous ears and a "Roman" nose. The Roman nose, amazing colours and pendulous ears make the breed instantly recognizable. Due to their Middle Eastern heritage, Nubians can live in very hot climates and have a longer breeding season than other dairy goats.
Considered a dairy or dual-purpose breed, Nubians are known for the high butterfat content of their milk. Compared with other breeds, the milk of the Nubian goat is high in both butterfat and protein, tests having shown an average of 4.8% butterfat and 3.8% protein. It is for this reason that the milk is of such interest to cheesemakers. Where emphasis is placed on flavour and quality, the milk of a Nubian goat cannot be beaten.
Nubians are highly intelligent animals. Once shown the correct way of doing something, for example being let out of their pen to be milked and where to stand, a Nubian will walk itself, jump up and wait to be milked. It is a breed which improves with age and there are instances of females breeding and milking well when past twelve years of age. Many animals of the breed are prolific and renowned for their fertility. Twins, triplets or quadruplets being common when the dam is well managed.
The Nubian is also suited to meat production, the kids growing quickly and putting on flesh easily. It is a very useful dual-purpose animal. It is one of the heaviest and tallest breeds of goat with does weighing at least 135 pounds (61 kg) and 175 pounds (79 kg) for bucks. The minimum height of the breed, measured at the withers, is 30 inches (76 cm) for does and 35 inches (89 cm) for bucks. The Anglo Nubian Goat Society discusses weighing and measuring Nubians.