Welcome to Willows Wild Registered Nubian Goat Herd
 Registered Nubian bucks and doelings: $450 each. Whethers: $150 each. All registered stock is sold disbudded and tattooed. Please ask us about our waiting list for spring 2017 and see our order page for details. Thank you for your interest in our Nubian goat stock.
Our herd health is important to us as we use our goat milk extensively.
Our Nubian stock has all been CAE and Johne's tested 9/02/16 and
we practice safety first and operate as a closed herd.
---
"Our Nubian Goat Story"
We put a deposit on our first pair of registered Nubian dairy goats that we purchased from Cherry Bolduc at her farm Mostly Minis, in Armstrong, BC  on April 2013. The beautiful twin doelings were from champion show lines and we were excited about being able to produce large quantities goat milk, cheese and yogurt for our family consumption. Our whole family fell in love with these intelligent and funny creatures. We had an abundance of excellent goat milk and milk products in our fridge and freezer. Our does seemed to have a never-ending supply of milk and even our dogs, cats and chicken reaped the benefits. I milked our first two does for a year and seven months straight and I could have continued but I weaned them due to their impeding pregnancies.
"Our Nubian Herd 2017 Growth Plans"
We have since continued to increase our herd using the excellent pure bred Nubian bucks from Cherry Bolduc's farm. We now have 4 older does, 3 yearlings and a new buck from the Green Goddess line. Their milk is rich and sweet, we are healthier and so are the many animals on our farm. We could never go back to store bought milk products.
Currently, we are working with our does in preparation for upcoming diary goat competitions in BC, such as the Interior Provincial Exhibition and the CGS West National Show in Salmon Arm. We have a waiting list for our upcoming 2017 kids and we will be happy to answer any questions you may have concerning our beautiful Nubian goat family.
"Nubian Goat History and Facts"
The Anglo-Nubian, or simply Nubian in the United States, is a breed of domestic goat. The breed was developed in Great Britain of native milking stock and goats from the Middle East and North African. Its distinguishing characteristics include large, pendulous ears and a "Roman" nose. The Roman nose, amazing colours and pendulous ears make the breed instantly recognizable. Due to their Middle-Eastern heritage, Anglo-Nubians can live in very hot climates and have a longer breeding season than other dairy goats.
Considered a dairy or dual-purpose breed, Anglo-Nubians are known for the high butterfat content of their milk. Compared with other breeds, the milk of the Anglo-Nubian goat is high in both butterfat and protein, tests having shown an average of 4.8% butterfat and 3.8% protein. It is for this reason that the milk is of such interest to cheese-makers. Where emphasis is placed on flavour and quality, the milk of an Anglo-Nubian goat cannot be beaten.
Anglo-Nubians are highly intelligent animals. Once shown the correct way of doing something, for example being let out of their pen to be milked and where to stand, a Nubian will walk itself, jump up and wait to be milked. It is a breed which improves with age and there are instances of females breeding and milking well when past twelve years of age. Many animals of the breed are prolific and renowned for their fertility. Twins, triplets or quadruplets being common when the dam is well managed.
The Anglo-Nubian is also suited to meat production, the kids growing quickly and putting on flesh easily. It is a very useful dual purpose animal. It is one of the heaviest and tallest breeds of goat with does weighing at least 135 pounds (61 kg) and 175 pounds (79 kg) for bucks. The minimum height of the breed, measured at the withers, is 30 inches (76 cm) for does and 35 inches (89 cm) for bucks.
---
Our herd name is "Willows Wild"  and our herd is under my name with the Canadian Goat Society:
Carolyn Selent Wild (WIL) Member No. 5392701
---
"Please click on the blue highlighted names/links below to see the extended pedigrees of our Registered Nubian Goats"

---
CHERRY'S SAM ISLERO -[CAN]N130967- Nubian Doe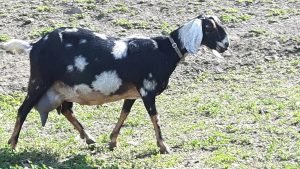 Islero gave birth to triplets May 9th, 2017 (more pictures coming soon)
For Sale – see prices above
 buck

Islero gave birth to twins May 18th, 2016
Willows Wild Tinker Bell:  sold to R.W. from Grand Prairie,  AB
Willow's Wild Fantastia: Doeling – will be retained for future breeding.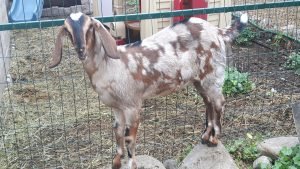 WILLOWS WILD BELLE -[CAN]CN139538- Nubian Doe
(Islero's daughter)
Belle gave birth to twins May 26th, 2016
Willow's Wild (Olaf): sold to L.K. from AB
Willow's Wild (Sven): Buck- sold
CHERRY'S SAM MIURA -[CAN]N130966- Nubian Doe
Miura and her daughter, Bambi
Muira gave birth to triplets  May 26th, 2016
Willow's Wild Tod : Whether  – Hand-Reared: sold to P. L. Armstrong, BC
Willow's Wild Penny: Doeling – will be retained for future breeding.
Willow's Wild Pocahontas: Doeling – will be retained for future breeding.
WILLOWS WILD BAMBI -[CAN]CN139537- Nubian Doe
(Miura's daughter)
Bambi gave birth to triplets May 11, 2016
Willow's Wild Faline: sold to L. S. in Armstrong, BC 
Willow's Wild (Hercules):  Buck – sold
Willow's Wild (Simba): Buck – sold
GREEN GODDESS PERFECT CHANCE -[CAN]N132417- Nubian Buck
– visiting buck and father to our 2016 kids